Overview
Features
Benefits
What's New
Testimonials
Alchemy PUBLISHER 3.0 - Advanced TM for Documentation
The Alchemy Translation Memory platform helps global organizations reduce localization costs and improve the quality and consistency of translated materials. It stores translations centrally so that professional translators can access this while they work. This helps improve the consistency of their translation while improving project turn-around and reducing overall project costs.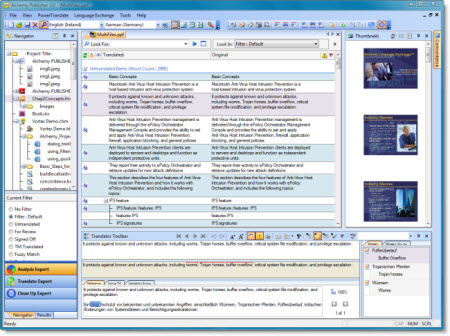 A growing need to reduce costs, to shorten time-to-market, and to meet the language requirements of a diverse customer-base adds to the complexity of being a successful player in today's global marketplace.
Alchemy PUBLISHER meets these challenges head-on! With a highly intuitive and easy-to-use project environment - coupled with an advanced Translation Memory technology - international organizations can deliver higher quality translations while dramatically reducing costs and project-cycle times.
Advanced Translation Memory Solution
The power of Alchemy PUBLISHER lies in its unique ability to use an advanced Translation Memory technology to store previously translated content. Because digital content such as web sites, help systems and technical publications are often repetitive the use of Alchemy PUBLISHER ensures that no sentence needs to be translated twice. In fact, use of this TM technology can reduce translation costs by as much as 70%!
Alchemy PUBLISHER uses object-oriented Translation Memory technology. This differs substantially from text-based TM products. Alchemy PUBLISHER's powerful Translation Memory not only stores text segments for re-use but also a document's layout, formatting, graphics and contextual information. This guarantees not only near-perfect translations re-use, but significant savings in the post-translation Desktop Publishing (DTP) and Quality Assurance (QA) testing.
Integrated Project Environment
Alchemy PUBLISHER supports over 100 of the most widely used file and document types, ensuring that the end-user has a single, easy-to-use solution for all translation requirements. Furthermore, Alchemy PUBLISHER supports translation re-use from virtually all industry Translation Memories, thus providing a vendor-agnostic solution to all translation needs.
Features
Alchemy PUBLISHER 3.0 helps translators achieve higher levels of quality and productivity than any other TM solution. With a highly intuitive project environment, powerful features such as predictive type, machine translation and language quality checking are all integrated in a single solution that handles hundreds of file and documents types.
Advanced Desktop TM
A new desktop TM engine that delivers high performance storage and retrieval of translations, advance concordance searching and much more.
WYSIWYG Editors
Work in one of our many visual editors and focus on the precision and accuracy of your translations. WYSIWYG Editors and Thumbnail previews are available for PDF, MS PowerPoint, MS Word, HTML and XML.
PerfectMatch Translations
Provides better than "100% match" translations by matching context and location of previous translations. No configuration required, it's an intrinsic feature of the Alchemy translation memory platform.
Real-Time QA
Helps professional translators achieve higher levels of productivity and accuracy by automatically spell checking and validating translations.
One Solution, many formats
With support for 100+ document types, use a single solution for all your translation needs.
Machine Translation
Combine the power of Machine Translation with the flexibility and certainty of Translation Memory! Connectors for Google Translate and PROMT are freely available.
Seamless Migration of TMs
Migrating from a legacy text-based TM solution? Your investment is secure, with TM connectors for virtually any TM formats available.
Placeholder Management
Automatic placement and protection of tags ensures that translators work faster and more securely on highly complex documents.
Maximize Translation Re-use
Work with several TMs simultaneously maximizing translation re-use and reducing your costs!
Open Standards
Even more support for standards such as XLIFF(bilingual interchange format), TBX(terminology exchange), TMX(translation memory exchange) and TXML(GlobalLink, Wordfast TM format)
Supported Content Formats
Alchemy PUBLISHER supports over 100 different document types. You can also build your own parsers using ezParse technology which is an integral part of the project environment.
Content Rich Document Formats: Adobe FrameMaker (fm, mif) 5.0 to 9.0, MS Office (doc, docx, ppt, pptx, xls, xlsx), RTF, HTML, XHTML, TXT, CSV, Adobe PDF.


Design Rich Document Formats: QuarkXPress 4.0-8.0, Adobe InDesign CS2, CS3 and CS4 (inx).


Online Help Systems: ComponentOne Doc-2-Help, Adobe RoboHelp, Madcap Flare, Sun Help and Oracle Help.


WEB Content Files: HTML (and all derivatives PHP, ASP, JSP), XHTML, XML (including derivative ASP.NET, ASP, JSP and XSL).


All Microsoft Desktop Development Platforms: 9x, NT, 2000, XP, Win32, VISTA, Windows 7.0, RC, RESX, .NET Binaries.


Java Platforms: J2EE, J2SE, J2ME.



Customer Benefits
Today's global economy places unique demands on international business. Companies must deliver their products and services in multiple languages to reach the widest possible market. Global product and service launches involve precise coordination of internal and external resources, simultaneous deployments around the globe, and require flawless translation quality.
Alchemy PUBLISHER delivers these and more to successful global organizations:
Translate Quicker: Beat your competitor to that vital window of sales opportunity. Get your product launched on a global scale, quicker, cheaper and to the highest quality standard.


Translate Easier: Professional Translators can focus on the precision and accuracy of their translations using Alchemy PUBLISHER's unique and easy-to-use project environment. With support for over 100 file formats, it's a single solution for all of their translation requirements.


Translate Better: Reduce the risk of bad quality translations. Use Alchemy PUBLISHER's integrated quality assurance features such as spell checkers, the Validation Expert and Glossary Consistency checker to ensure that the translations are done right first time, in real-time, every time!


Translate Smarter: The advanced Translation Memory of Alchemy PUBLISHER allows you to not only re-use translations, but also a document's layout and graphical content. That's double the benefit of limited, text-based TMs!
What's New in Alchemy PUBLISHER 3.0?
Alchemy PUBLISHER is enhanced in all areas to provide improvements in languages supported, performance, productivity, usability, standards support and greater functionality with Microsoft Office Products (MS Word, MS EXCEL and MS PowerPoint), Adobe formats (InDesign, FrameMaker) and online help technologies.
Alchemy PUBLISHER 3.0, an advanced TM for documentation provides:
ENHANCED Single solution for hundreds of file formats:
Alchemy PUBLISHER supports over 100+ different file formats ensuring that you have a scalable and reliable solution for any file type your clients needs to translate. New formats included are:
Adobe PDF - We listened and we delivered. Many of our clients get PDF files to translate, now these can be handled directly by Alchemy PUBLISHER.
Adobe InDesign CS3/CS4 - A quickly emerging standard for high end publications. Now you can process InDesign (INX) natively and avoid the conversion process of CopyFlow.
MS PowerPoint - Work directly with MS PowerPoint ( ppt and pptx) files. You can see a real time preview of each slide as you translate it and ensure that you deliver the highest possible quality to your client.
Adobe FrameMaker 8.0 and 9.0 - Work with MIF and FM files directly depending on your needs. You select which mechanism best supports your localization process. For example, if you using structured frame or your documents contains lost of conditional sections you may decide that MIF translation is better than working directly on the FM documents.
Adobe Robohelp 8.0 - Alchemy PUBLISHER now supports the new RoboHelp custom tag formats making it easier than ever to work on large compiled (CHM) or directly with xHTML help files.
NEW Process Multiple Files:
Alchemy PUBLISHER projects (PPFs) can now contain multiple files so that clients can aggregate files of many types into a single, easy to handle project file. Using Alchemy PUBLISHER 3.0 it is now easy to manage multi-lingual projects by connecting it to Alchemy LANGUAGE EXCHANGE 3.0. This enables LSPs to centralize the storage of translations into a single high performance server based TM and share this amongst their teams of professional translators.
ENHANCED Online Help Localization Solution: Struggling to manage thousands of individual online help files? Struggle no more! Building on the success of its visual HTML environment, Alchemy PUBLISHER fully supports the visual localization, engineering and testing of compiled online help systems. Our visual solution processes compiled help files directly so you can avoid the complexity of handling thousand of individual help files, streamlining your help localization process and reaching markets quicker. Additionally, Alchemy PUBLISHER now supports the new custom tags for Adobe RoboHelp.
ENHANCED Analysis Expert: Calculate the number of segment matches between project PPFs and Translations memories, count unique and repetition words and determine how many fuzzy matches can be re-used. The Analysis Expert works with all industry standard TMs (Alchemy Language Exchange, GlobalLink, Wordfast, TXML, TRADOS TMW, SDL TM Server, TTK, TMX, XLIFF, TXT) to determine how you can maximize the re-use of previous translations and reduce your cost of translation further!

NEW Centre of Productivity for Professional Translators: Alchemy PUBLISHER includes a highly interactive Translator Toolbar that helps professional translators work faster, with higher accuracy and improved project turnarounds. The Translator Toolbar defines a standard for translator environments and also includes web-based connections to Machine Translation engines such as Goggle and PROMT.
Alchemy PUBLISHER now incorporates advanced TAG management and detection ensuring that tags are positioned correctly during a TM re-use and Translate operation.
The Translator Toolbar also includes Auto-Validation. This checks the translation as it's typed ensuring that it's consistent with your glossary and does not contain any other translation errors.
The Translator Toolbar is a powerhouse of features designed to help professional translators improve their productivity without jeopardizing their quality standards.
NEW Automatic TM Lookup: Simply point to a segment and Alchemy PBLISHER will automatically search for an exact or similar (fuzzy) match translation suggestion. This automatic lookup is cached so that there is no time-delay incurred when working on server based TM or desktop TM. Translations suggestions are now displayed in the TM Reference panel at the bottom of the Translator Toolbar.


NEW Difference Highlighter: The difference between the source text and the TM matches are highlighted automatically for professional translators. This saves them time when vetting matches for possible acceptance into their work.


NEW Re-use Content for virtually any TM provider: Translate Once and Re-Use Forever! We realize that many of our clients work with different TM tools, so we have developed Alchemy PUBLISHER so that it can re-use content from virtually every major TM format used in the industry. ( i.e. Server-based TM ( such as Alchemy LANGUAGE EXCHANGE, SDL TM Server, SDL Idiom) or desktop TM (TTK, PPF, WordFast, GlobalLink TXML, TRADOS TMW, TMX, XLIFF, XML, TXT ). True to our reputation - we never leave a translation behind!


NEW Automatic Quality Monitoring- Do it Right, Every Time! Translations are monitored as they are typed and are validated for both content-type errors and linguistic-type errors ( e.g. the use of an inconsistent glossary term , misspellings, inconsistent segment translation etc.). This early warning system facilitates prompt error-detection and correction so that translators can guarantee the delivery of higher quality work for their clients first time around. As a result, the company's products become synoymous with quality, helping them win more business in a highly competitive market.


NEW Placeholder Management: Alchemy PUBLISHER comes with in-built placeholder management technology . This allows all placeholders ( i.e. Keywords, tags, glossary matches etc.) to be quickly selected and inserted into the target text. Adopting the TRADOS placeholder methods, it also means that professional translators will feel at home working with this aspect of the translation process. Placeholders can also be protected so they cannot be accidentally deleted during the translation process.


NEW ezType - Quite simply, the fastest way to translate! Alchemy PUBLISHER 3.0 introduces a new form of translator-assistance technology called ezType. Think predictive text for mobile phones and then map this concept into the translators' world! ezType monitors the work of the t ranslator and predicts word completions by referencing the original source text and glossary and placeholder suggestions. There is no faster way to enter highly-repetitive text, especially web sites, catalog and eStore type information.


NEW Automatic Glossary Lookups: Alchemy PUBLISHER now supports automatic glossary lookup (both exact and fuzzy). These are displayed in the Translator Toolbar. Suggested translations are available for quick selection using ezType and are also validated for accuracy and consistency using the Automatic Quality Monitoring feature.


NEW TBX Glossary Documents: Alchemy PUBLISHER introduces support for TBX, the standard for term exchange formats. This is now an integral part of Alchemy PUBLISHER and not only can these document types be used as Glossaries, Alchemy PUBLISHER can also create glossaries in this format.


NEW Machine Translation: Always get a translation suggestion! Machine Translation is now built into Alchemy PUBLISHER as an added-value service for professional translators. If no translation match is found for a segment, Alchemy PUBLISHER can be configured to use a web-based Machine Translation service which will present an MT translation to the translator for consideration. (Don't worry; this feature can be switched off for those clients who still have concerns about using MT within their L10N process.)


NEW Supplementary Glossary Support: Now professional translators can build their own list of supplementary glossary terms. This enables them to capture these as they work and then upload them into a master glossary at the end of the translation process. Supplementary Glossaries can also be edited using our built-in Glossary Editor. This helps translators manage and maintain the quality of their glossaries.


NEW Concordance Searching: Alchemy PUBLISHER now has a completely new Concordance Engine. This allows both desktop TMs and server-based TMs to be searched for previous translations. The new Condorance Manager also supports virtually all industry TM formats.


NEW Seamless Connection to Alchemy LANGUAGE EXCHANGE: The Translator Toolbar is now seamlessly connected to Alchemy LANGUAGE EXCHANGE. This is an enterprise server-based TM technology.


NEW Microsoft Spellcheckers: While Alchemy PUBLISHER includes an internal spell checker technology, we realise that professional translators may opt to use the new connector for MS Word spell checkers - the choice is always yours!


NEW Keywords: Only translate what needs to be translated (and only pay for it as well!) Most source text contain brand names, measurements, currency amounts, dimensions, marketing brands etc., now these can be defined as Keywords. Once defined, they are protected and are displayed with a blue-underline in the Translator Toolbar. And even better - they are also excluded from word count analysis/costing reports!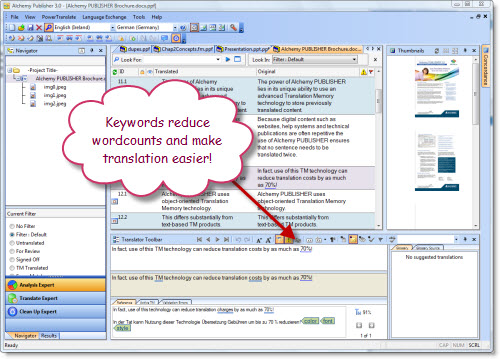 NEW Keywords: Keywords are a phrase or single word that are to be locked within a segment and excluded from the translation process. Since they are not translated, they are not included in any Project word count analysis, helping reducing the overall costs of translation.
Keywords can be product, brand, feature names or numerical data such as currency, weight or measurement values. In many cases these do not require translation and once defined, will not be included in any Project Analysis or word count operations.
Keywords can be defined using simple strings or for more advanced users, using Regular Expressions. They are displayed as placeholders(blue underline) in the translator toolbar and can be manipulated using the PowerTranslate toolbar.
NEW Keyword Expert: Keywords can be applied to individual or groups of files using the Keyword Expert.


NEW Defining Keywords: Keywords are defined using simple strings or for the more advanced user, using Regular Expressions. For example, [0-9]+ defines every number in your project as a keyword and ensures that numerical data is not counted as part of project word count reports.


NEW Validate Expert: The Validate Expert has been extended to provide automatic detection of Keyword deletion or modification. This makes these errors easy to detect and fix for the localization engineer.


NEW ezType: ezType can be used to make entry of keywords quick and easy for the professional translator. ezType monitors the translator as they work and presents suggested word/phrase completiong as they translate.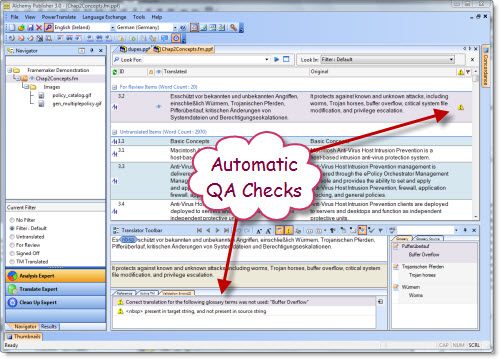 NEW Language Consistency Checker: Alchemy PUBLISHER can automatically detect inconsistent translations and help professional translators resolve these quickly and easily. Designed as a new type of Project filter it can detect situations where source segments are translated differently or when target translations are identical but source segments are different. This is an essential tool for organizations that need to achieve the highest possible level of translations consistency in their projects.
Successful translators produce high quality translations fast and efficiently. They know that a quick, high quality project turnaround can make the difference in the next pay check, project assignment and help win repeating business. The challenge for these language professionals is how to achieve higher levels of translation speeds without jeopardizing quality and consistency standards?
NEW Continuous Quality Monitoring: Alchemy PUBLISHER 3.0 can help them with this challenge! It continuously monitors translations and can detect both linguistic and cosmetic errors while the translator is working. These errors are instantly displayed in the Translator Toolbar so that immediate action can be taken to address and overcome them.
This continuous monitoring and error detection will helps professional translators work faster, improving project turn-around times, while guaranteeing the highest possible levels of quality and consistency.
NEW Machine Translation:
Experience the power of 2! Combine the accuracy of TM with the flexibility and speed of Machine Translation all in a single highly interactive project environment. Source segments that cannot be located in a TM can be automatically sent to a web based Machine Translation service (MT) so that a translator always gets a translation suggestion while working. It's also easy to route requests to in-house MT solutions, presenting professional translators with another powerful tool to reduce project turnaround times and reduce project costs.
NEW Translation Propagation: One of the most exciting features of Alchemy PUBLISHER is its ability to automatically detected previous translations of segments from within an open project file. This self-referential lookup ensures that higher levels of consistency and translation quality are achieved by professional translators.
NEW Alchemy LANGUAGE EXCHANGE Interface: Alchemy PUBLISHER is fully integrated with Alchemy LANGUAGE EXCHANGE 3.0, helping clients centralize their valuable translation memory assets and control access to them during a localization project.
NEW Complete open standards support:
Increased compatibility, no matter what the format, including XLIFF, TBX, XML, TMX, GlobalLink, TXML, Wordfast (Server and Desktop TMs) and all TRADOS desktop and server-based TM technologies.
NEW Increase Translator Productivity: ezType(TM) is predictive text tailored for the professional translator. It helps accelerate typing speed by monitoring the keyboard and auto-completing words and glossary suggestions during translation. Tightly integrated into the Translator Toolbar it is an essential productivity tool for any translation project!
NEW The New Terminology Standard: TBX is rapidly becoming the standard for term-base sharing and lookups. Alchemy PUBLISHER embraces this new standard and displays suggested terms within the Translator Toolbar. Additionally, it now supports a Supplementary Glossary that a translator can use to store their own glossary terms.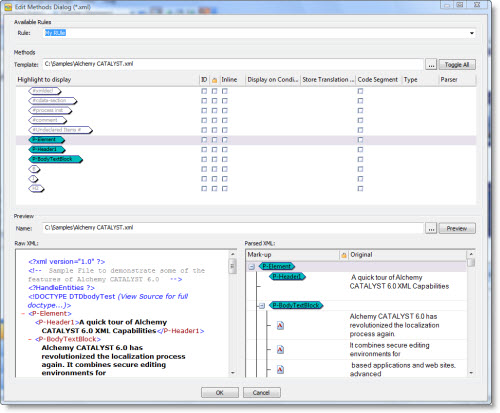 NEW Conditional and Multi-lingual XML Support: Alchemy ezParse technology has been extensively redesigned to support multi-lingual and conditional-based XML documents. This makes is easier to work with content coming from CRM systems and to identify only that content that needs to be translated. As with all ezParse solutions, you create these new parsers in a highly visual development environment so you avoid writing the code yourself, Alchemy PUBLISHER does all the hard work for you!
Many of our clients are increasingly using XML as a way of getting diverse content/data streams into their translation pipeline as a single, highly structured file/document format. XML is versatile, portable, easily understood and Unicode enabled, so it offers an ideal 'container' to our clients for such purposes.
Many CMS (Content Management Systems) are XML based (i.e. they store their content in XML documents) and an increasing number of these XML documents also provide a mechanism to support 'conditional' content ie content that is only to be translated based on the value(s) of attribute(s).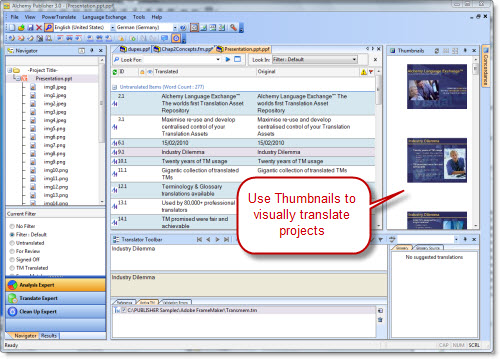 NEW Thumbnail Navigation: Navigate large projects using an intuitive and easy-to-use visual project navigator. This presents the contents of a Project PPF as thumbnail images that can be viewed quickly and easily. Simply click on the thumbnail of the web page, PowerPoint slide or winform and Alchemy PUBLISHER will locate it automatically.
Microsoft VISTA has enhanced the File Explorer by making it a highly graphical and visual desktop tool. For example, rather than seeing generic icons for folders and say bitmaps, you now see thumbnails of what's in the folders and a scalable thumbnail of the actual bitmap. This graphical display of data works its way down to almost all data objects on your desktop and it makes finding data quick and easy.
Alchemy PUBLISHER has implemented the same enhancement to the navigation and management of Projects. You can now use the Thumbnail Navigator to visually inspect the contents of a project. Simply clicking on a thumbnail is all that is required to start translating, engineering or testing.
Testimonials
Read what early adopters of Alchemy PUBLISHER 3.0 are saying about their experiences.
"[PUBLISHER 3.0] is incredible easy to use and very intuitive.......It is great to be able to have all different file formats in one project and be able easily add or exclude files and connection to multiple TMs of different formats"Fernando Novae - ArchiText, Alchemy Partner
"We have been a power user of Alchemy CATALYST since the time the product was created and also welcomed the Alchemy PUBLISHER product which focuses on print formats with great enthusiasm. We are using [these] products on a daily basis in order to be in a position to offer our clients the highest efficiency possible."Bernd Löffler - iSP - a division of Translations.com
First Impressions
Alchemy Publisher 3.0 is a fantastic tool to work with!
by Rob Edwards
The [Alchemy PUBLISHER 3.0] interface is attractive and responsive and the [panel] auto-hide feature allows me to lay out my desktop pretty much however I please. This makes for an uncluttered workspace on the one hand, but also allows me to have other features to hand (for example on the toolbar), which I can then access simply by moving the mouse over the relevant icon. Simplicity itself!
Perhaps the most noticeable change with respect to Alchemy PUBLISHER 2.0 is the number of file formats that have been added. It is now possible to work with all the usual Microsoft Office formats, all Adobe file formats(even PDF), whilst retaining the functionality for a vast number of web and software formats.
Alchemy PUBLISHER 3.0 uses Alchemy's own translation memory format which I find both fast and accurate. I am very impressed with the quality of matches it returns and the response time is the fastest I have seen so far.
The new translator toolbar is very handy. The ezType feature allows you to auto-complete words from your glossaries and TMs as you type, whilst the auto-validation tool validates your translation units as you complete them, displaying a warning icon in the workspace for every unit requiring attention.
In short, the list of benefits is too long to list here, but some other features which deserve much more than a passing glance are listed below:
Quickfind search function - search in source and/or target languages without having to call up the search box
Alchemy Machine Translation Connectors - use Google Translate or PROMT in your translations (there is an option to disable this for your projects if you prefer)
ezParse - allows you to use XPath to build your own custom XML filters (including an option to specify conditional parsing for multilingual file formats)
Support for multiple TM formats - use Trados TMs, TMX and other translation memory formats directly without having to import them first
Keywords function - allows the protection ("locking") of certain user-defined keywords [within segments]
Multiple Files - a PPF project can now include a number of files or folders in a single project file
Alchemy Publisher 3.0 sets the standard for translation memory software in 2010.
Publisher a Good Tool? (No, Silly, Not Microsoft Publisher!)
By Jost Zetzsche of International Writers Group (Abridge version)
Pretty much exactly a year and a half after Alchemy Software released the first version of Publisher it has now released version 3. I had a chance to look at the new incarnation and talk to the folks in charge.
[Alchemy] Publisher is surprisingly translator-oriented. As in many other tools, translation files are stored in projects, in this case the proprietary PPF format. What's new in this version is that you can mix and match any number of supported file formats in one project file. Not surprisingly, there are a number of new file formats that are supported. Aside from more esoteric ones, there are now [Microsoft Office] PowerPoint files and [Adobe] PDF files.
Here are some other cool new features:
The keyword feature allows you to lock untranslatables and exclude them from both translation and word counts (you will have to know how to compose regular expressions to add those).
The Desktop TM are now stored in XLIFF format rather than the simple text format they used to be in. I think this is very interesting and quite forward-looking: XLIFF was originally not intended as a TM exchange format, but all indications point to XLIFF becoming just that.
ezType is an auto-suggest feature that gives you suggestions on the basis of previous translations and the translation memory(s).
TBX is now the preferred termbase exchange standard in Publisher.
And of course: We now have integrated machine translation ability, first by Google Translate but also through an integration with PROMT.
I'm intrigued with this tool. In a way it's quite easy to use and get started with it, but in other parts you can recognize that the developers are very technical at heart.
Still, overall it's a tool that in this latest release is trying to emphasize some translation-related productivity, and it's also a tool whose makers are eager to please and are quick to respond.